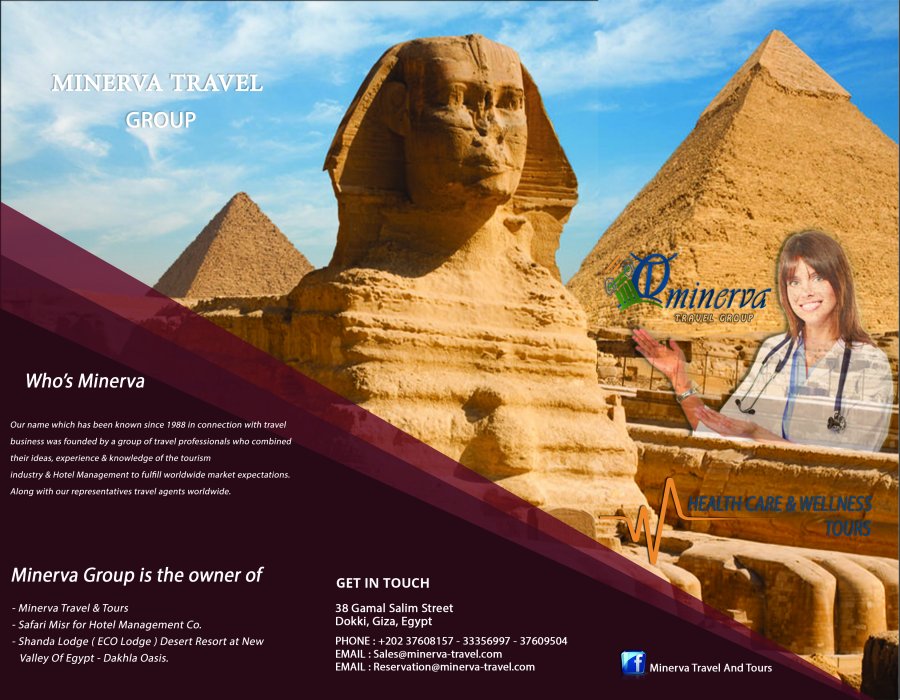 Who Is Minerva Healthcare Details
Minerva Healthcare is a Customer Centric Medical Tourism facilitation company and
a Global Operator with local footprint, we strive to understand the customer's requirement
fully, provide a platform for connecting the Clint's to the hospital and doctor, and engage
In extending all facilities to the customer in undertaking the journey to alleviate his condition
Our professional management under the supervision of Our Vice President for Healthcare
& Wellness Division ( Professor Doctor Essam El-Kady ).
As we are one of the leading healthcare travel facilitators, we uses its network of doctors
and JCI accredited hospitals, to provide the best quote, excellent support and genuine care.
our teams of committed and passionate professionals are eager to assist with your medical
trip to Egypt.
VISION :-
To be a globally recognized company established world-wide with an excellence in organizational structure
Re-defining the standards of " customer service " by exceeding customer expectations
To be admired for our business values and ethics
To keep our name synonymous with reliability, customer satisfaction and innovation.
To be the "preferred choice" both for customers, suppliers and employees
To bring inspiration and be a model for companies who are willing to reach their dreams .
MISSION :-
Perceiving customer needs at utmost level by providing them flexibility in sourcing, competitive prices,
on-time deliveries and customized solutions for unique needs
Ensuring attentive, effective and proactive customer services and personalized attention to customers
Continually building our skills and knowledge to meet the growing and diverse needs of customers
Sustaining our reputation as a reliable, customer oriented, dynamic player in the market
Achieving profitable growth, operational and organizational excellence without compromising our values and business ethics.

VALUES :-

Loyalty
Honesty
Integrity
Reliability
Transparency
Mutual Respect

Minerva focus on 4 main aspects in Medical Tourism

Information
Transparency
Communication
Experience

Our 4 core principles:

Information :-
We will strive to provide up to date information on all spheres of medical conditions
We will support and coordinate with our client to research the best possible treatment
solution and hospital for him to undertake treatment.
Transparency :-
We will explain the pro's and con's of the countries, hospitals, their competency, quality
of service, facilities available, accreditations and experience of doctors.
Client will be able to select the hospital and doctor that he deems is best in consultation

whith his personal physician.

Communication :-
Communication is the essence of any exchange of ideas or solutions, Our personnel undergo exhaustive training on medical tourism components, medical terminology
and also research to understand clients requirements, to facilitate identification of
the right doctors and hospitals, travel solutions, accommodation solutions etc..
Experience :-
We believe in providing the client a wholesome and satisfying experience while undergoing medical tourism. Towards this end, we manage all aspects of your medical tourism including air travel, accommodation, local transportation, concierge service, communication, tourism service by either owning it or identifying the right service provider.
OUR SERVICES ..

Preparatory or Consultation Services :-

Minerva will assign a dedicated Customer Marketing Coordinator to customers, who

will be responsible for initial discussion and arrangements for medical travel from the

home country to destination country.

* Understand the Customer's requirements.

* Assist in identifying the right hospital based on his / her medical requirements and

budget.

* Arrange for discussion with the doctor who will be performing the procedure by audio

or video conference call.

* Arrange for necessary Pre-treatment tests to be done in the home country if possible

* Secure transfer of all medical records to the hospital (using our hosted server).

* Provide complete information on the process of medical treatment, duration of stay

(before and after treatment), accommodation, travel and tourism .

LAST BUT NOT LEAST

We are willing to provide much more than the medical service and training.

We are aiming to expand as much as we can in Africa, through regional agencies

and be one of the leaders of health care givers as well as spreading our knowledge to help others improve there lives .

Doctor / Essam El-Kady

Vice chairman for Healthcare & Wellness